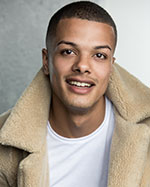 Dylan Brady
BA (Hons) Acting – Graduated 2019
| | |
| --- | --- |
| Playing age | 16 - 22 |
| Height | 5' 10'' |
| Eye colour | Brown |
| Hair colour | Black |
| Spotlight | 8130-5611-2190 |
News
Dylan Brady is currently filming in THE DIPLOMAT (World Productions / Alibi) in Barcelona playing Carl. He recently finished RALPH AND KATIE (BBC 1) playing Danny and his episode of THE FUCKIT BUCKET (Netflix) is currently shooting in London.
Dylan is appearing as Sam in Netflix's THE A LIST .
Dylan will be joining the cast of Coronation Street as new character Danny Tomlinson. He will also be appearing as Ed in the BBC drama series Get Even.
Awards
The Sir John Gielgud Bursary Award
Productions whilst training
| Role | Play | Director |
| --- | --- | --- |
| Saul Mercer | Luminosity | Roy Alexander Weise |
| Joseph/Roadhouse | Our Friends in the North | Kate Coogan |
| Pleribo/ Adraste/ Prince Florilame | The Illusion | Seb Harcombe |
| Richard Noakes | Arcadia | David Salter |
| Orestes | The Oresteia | Seb Harcombe |
| Bottom | A Midsummer Night's Dream | Christopher Hunter |
| King Claudius | Hamlet | Christopher Hunter |
| Joe | Eh Joe | James Nickerson |
Workshops
Acting for Camera (Graeme Hawley)
Acting for Radio (Stefan Escreet)
Acting Workshop (Seb Harcombe)
Ensemble and Rhythm (Emma Bonnici)
Playing Shakespeare (Chris Hunter & Alex Thorpe)
Singing (Ian Chesworth)
Stage Combat (Renny Krupinski & Kaitlin Howard)
Accents
Derby (Native), Nottingham, RP, Heightened RP, London, American (Standard), Scottish (Standard), Glaswegian, Manchester, Yorkshire, Liverpool
Other skills
Alexander Technique, Improvisation, APC Basic Rapier & Dagger, APC Basic Single Sword, APC Basic Unarmed, Comedy Improv, Poetry Reading, Radio Drama, Sight-Reading (non-musical), Story Telling, Harmony Singing, Period Dancing