Bunker Talks
Hosted by the Performance Research Cluster at Manchester School of Theatre, Bunker Talks invite artists and staff at Manchester School of Art to talk about who they are and what they do. A space for critical encounters, presentations, provocation and dialogue, Bunker Talks are linked by a line of enquiry into geo-political, ecological or economic concerns. In the Covid-19 crisis, they have moved online to explore how artists and researchers continue to make and share their work.
Bunker Talk #1
Jess Latowicki
(

Made in China

)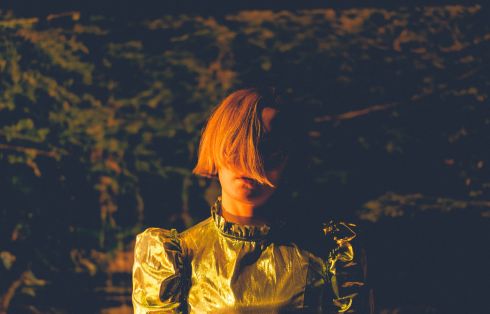 Jess Latowicki (Made in China) gave an artist talk about the theatre company's work and reflected on the themes of its current touring performance. Jess Latowicki studied Acting at NYU before moving to the UK and setting up acclaimed theatre company, Made in China, with Tim Cowbury. Their latest show, Super Duper Close Up explores expectations of social media and IRL pressure. Super Duper Close Up visited the Royal Exchange Theatre as part of its Spring 2020 tour.
Bunker Talk #2
Anna Macdonald
Bunker Talks #2 - Anna Macdonald (Part One)
Please toggle view using in-screen options to see each speaker and/or powerpoint.
Michael Pinchbeck interviews Dr Anna Macdonald, Senior Lecturer at Manchester School of Theatre, about her recent practice as research. Anna is a dance and moving-image artist who uses the medium of the body as a way of exploring philosophical concepts. Her work predominantly takes the form of film, but also involves site-specific performance and installation, and is exhibited in galleries and video art festivals. Anna is programme leader for the new MA/MFA Contemporary Performance starting in 2020/21.
Bunker Talks #2 - Anna Macdonald (Part Two)
Please toggle view using in-screen options to see each speaker and/or powerpoint.
Bunker Talk #3
Kai Syng Tan
Michael Pinchbeck interviews Dr Kai Syng Tan, Senior Lecturer at the Department of Art & Performance, having joined Manchester Met University in September 2019. Kai is Programme leader for a new MA/MFA in Executive Arts Leadership. An artist, consultant, curator and academic, Kai is concerned with the body and mind in motion in a world in motion and commotion. She is best known for gathering diverse and divergent bodies and bodies of knowledge to engineer spaces of 'productive antagonisms' (Latham & Tan 2016) across disciplinary, geopolitical and cultural boundaries, in what she calls an 'ill-disciplined' approach (Tan & Asherson 2018).
Bunker Talk #4
John Deeney
Michael Pinchbeck interviews John Deeney, programme leader for MA Directing in Manchester School of Theatre. His research interests include Contemporary drama, Directing practice (Drama/Theatre), Dramaturgy/playwriting, Theatre, theory, Politics and he has published several books and articles on theatre and directs a range of different productions. He recently led on a project with Manchester School of Theatre collaborating with the Regional Theatre Young Directors Scheme (RTYDS) on New Directions, a pilot training and career development event for emerging theatre directors from underrepresented communities. Workshops were delivered by industry professionals from across the UK. MA Directing will start in 2021/22.
Bunker Talk #5
Kevin Egan
Josh Edelman interviews Kevin Egan, Senior Lecturer in Drama and Contemporary Performance at Manchester School of Theatre. Kevin is an artist with the theatre company Reckless Sleepers, with whom he has devised and performed in a number of theatre projects, including Schrödinger, Negative Space and It's Hot, It's Not. As a theatre-maker, performer and dramaturg he has worked with Plane Performance, Proto-type Theater, and The Strange Names Collective. His research interests are broadly situated within the domain of live art and contemporary theatre, particularly with regard to current trends in theatrical composition.
Bunker Talk #6
Brigid McLeer
Michael Pinchbeck from Manchester School of Theatre interviews Dr Brigid McLeer, Senior Lecturer in Fine Art at Manchester Metropolitan University. Brigid is an Irish artist based in London. She trained in Fine Art at NCAD, Dublin, University of Ulster, Belfast and Slade School of Art, London. Brigid is interested in ideas around contingent subjectivity and the public-political and works in various media/modes including video, durational performance (live and to camera), photography, drawing and writing. Her work has been shown in galleries, public sites, as online projects and on the page. She has recently completed a PhD by practice in Fine Art at the Royal College of Art, London.
Bunker Talk #7
Tim Brennan
Michael Pinchbeck interviews Professor Tim Brennan, an independent artist and academic. He has exhibited internationally for over 30 years, including the Venice Biennale, Interzone Performance Biennale in Quebec and The British Museum. He has published extensively with over 15 monograph publications. In 2007, he was shortlisted for the UK's Northern Arts Prize. In the 1990s he established BA Visual Performance at the Dartington College of Arts and then MA Curating at Goldsmiths. Since 2000, he has developed, taught and led new programmes as a Lecturer, Head of Department, as Associate Dean at the University of Sunderland and as Professor of Art at the College of Creative Arts, Massey University, New Zealand. He took up role of Professor of Art and Head of Department of Art & Performance at Manchester Metropolitan University in 2017.
Bunker Talk #8
César Cornejo
Michael Pinchbeck interviews César Cornejo, Senior Lecturer in Fine Art at Manchester School of Art. Originally from Peru, he creates work that reflects critically on socio-political issues and explores the relationship between art, architecture and society. He has exhibited widely internationally. César received MA and PhD degrees in sculpture from the Tokyo University of the Arts and BA Architecture and Urbanism at the Ricardo Palma University in Lima, Peru. He has taught at institutions such as the University of South Florida, the City University of New York, Museo del Barrio NY, Massachusetts College of Art and Design and Ricardo Palma University.