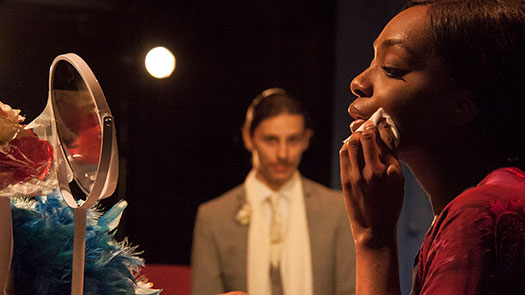 Acting
The BA (Hons) Acting programme is a leading actor training based in the heart of Manchester.
Led by a team of specialist and highly experienced directors, teachers and practitioners, the BA (Hons) Acting course at Manchester School of Theatre has an outstanding reputation for training actors with the skills necessary for a successful career in film, television, radio and stage.
We are looking for your imagination, empathy, curiosity, passion and wonder.
We are looking for expressive people who are energetic, dynamic and driven to tell stories.
We will nurture your ability, teach you your craft and encourage you on the path to creative excellence.
We encourage anyone with a passion for and commitment to acting to apply and we are dedicated to making our training as widely accessible as possible
You will work with a wide range of practitioners and a wealth of inspiring teachers and professional practitioners. You will train in all aspects of the craft including acting for stage, screen and radio.
Based in the Manchester School of Theatre, we have recently moved into our new building, specially built for us on Oxford Road. Our inspirational training venue includes:
A 180 seat fully equipped studio theatre, with dressing rooms and green room
Large movement and performance studios with sprung floors
8 additional rehearsal studios
TV and radio studios
Tutorial rooms
Computer labs
The Acting course enjoys very strong links with many of the region's key employers including BBC, RNCM, the Hallé Orchestra, Royal Exchange Theatre, HOME, Bolton Octagon, Oldham Coliseum, Hull Truck Theatre and The Lowry. We also have creative partnerships with a number of national and international organisations including: New National Theatre, Tokyo, the ETFI, Carnegie Mellon University,
This course is taught by tutors and visiting actors and directors with a wealth of experience and expertise. You can visit our recent staff and visiting staff lists here.
Special Features
—

World class training in the heart of Manchester.

—

A brand-new inspirational training hub including state of the art theatre, studios and rehearsal rooms.

—

Recent students have won many prestigious awards including the Alan Bates Award, The Carleton Hobbs Bursary Award and the Laurence Olivier Bursary.

—

Selected students will get to participate in a number of events and collaborations including Sam Wannamaker Award, RSC Weekend and potentially projects with the Hallé, RNCM, MIF and other international partners.

—

A nationally and internationally acclaimed course which has links with the region's key employers including BBC, MIF, Royal Exchange Theatre, HOME, RNCM, Hallé Orchestra and The Lowry.

—

Strong links with The Manchester Writing School.
Watch the BA (Hons) Acting showreel. More videos of our students performing can be seen on the Acting Showcase page.
Course Content
The first two years of this course are all about training. The third year is industry facing, preparing and readying our actors for the profession. The first year is entirely process driven with little emphasis on performing. The second year introduces elements of performance through workshops and culminates in a black box production readying the students for the third year.
Year 1
In the first year of your training you will explore your voice, your body and your self. You will experience the ensemble as a tangible, meaningful presence and you will begin the rudiments of the actor's craft, working with key principles derived in part from the work of Konstantin Stanislavsky, Uta Hagen and Michael Chekhov. You will learn how to read a play and turn dried ink into character and action. You will learn the rudiments of working on camera and have several opportunities to experience truthful self and the transformation into a present character. You will start to apply what you have learned in a series of scene studies working with both contemporary and European Naturalism texts. By the end of your first year you will have experienced using self as the basis of character and have established a personal, structured process to apply to rehearsal.
Contextualising Practice 1: Critical Analysis
Students are allocated to a pathway according to their programme to introduce ideas relevant to their studies. The unit introduces some of the broad over-arching themes and concepts – historical, cultural, social, political, and economic – that affect and inform the production of art, design and/or craft.
Contextualising Practice 1: Critical Reflection
This unit is delivered and assessed by individual programmes and relate directly to students' personal practice and the contexts that inform making in professional art, design and/or craft practices. The unit asks students to begin to form a critical understanding of their own practice.
The Actors Craft 1: Establishing Principles
In this unit you will begin to work on the foundations upon which the training is based: you will apply imagination, curiosity and energy to free yourself from habit and to experience working with openness, impulse and sensation. Throughout this work you be exploring notions of self. Part of this unit will involve working as a full cohort, experiencing through song and movement, the physical, spiritual and psychic demands of the ensemble. In parallel with this, you will work through a series of Stanislavsky and Hagen based acting exercises, to set up the fundamental principles of the training, including playing from impulse, sustaining objectives, generating characteristics and being a sensuous human being in the space.
Movement: The Actor's Body 1
Primarily through animal studies, this unit covers a series of exercises, developing observation and imagination and the application of movement skills to transform the body. Students will explore objective and action in its simple and most primal form, studying the physical behaviour of different animals, moving away from personal habitual rhythms and thought patterns towards an understanding of instinctive animal-like behaviour and how it relates to human behaviour. Pure Movement 'The Cat' and tumbling are used to stretch, free and strengthen the body physically and focuses on physical accuracy, strength and safe falling, developing partnership coordination and trust, in both actor and animal alike.
Voice and The Actor 1
This unit establishes principles that help the student experience the breath in two ways: as an impulsive, natural response to a stimulus, a need to express and communicate freely, without tension or over-control; and as a dynamic, living actor's resource that supports the voice physically, and that carries the voice's expressivity. Taking methodologies and pedagogies from Kristin Linklater and Patsy Rodenburg, the unit encourages students to reassess habitual usage and to lay the foundation of new habits which will build released, supported, expressive voices that respond to imagination and creative impulse.
The Actors Craft 2: Developing Principles
This unit builds on the work of the first term and complements the Rehearsal Project 1: Contemporary Realism. In this unit, students will continue to develop the principles of the actor training with a transition of emphasis from notions of self to playing character. Students will work with improvisation, psychological gestures, as well as exercises based on the work of Uta Hagen, Stanislavsky and Michael Chekhov. Students will also be introduced to and familiarised with acting in front of the camera.
Rehearsal Project 1: Contemporary Realism
In this unit, students will begin to explore the work they have been learning in their acting classes through the rehearsal of a scene taken from a piece of contemporary realism, for example Simon Stephens, Leo Butler, Joe Penhall, Dennis Kelly, Roy Williams, Moira Buffini amongst others. The assessment will be formative and will include the presentation of a workbook journal, to provide context and a focal point to the student's journey through the work. Students will be encouraged to work towards an increasingly secure application of the processes and methodologies to which they have been introduced in earlier stages of the course and to achieve convincing and appropriate character transformations, relationships and playable objectives.
Rehearsal Project 2: Creating A World
In this unit, students will explore and put into practice the work they've learnt so far through the rehearsal of scenes from a play by the European Naturalists, for example Chekhov or Ibsen or may even be stretched to include other naturalistic writers, such as Arthur Miller, Lorraine Hansbury, August Wilson or JB Priestley where appropriate. Students will engage with the sensual use of language as a means of creative expression. Rehearsals will foster a practice that demands research and observation, a willingness to experiment, and a confident integration of movement, voice and acting classes in the creation of character, relationship and given circumstances.
Year 2
In the second year of your training, you will consolidate and develop what you have learned in the first year. You will work have considerably more experience in front of the camera as well as behind the mic. You will work with heightened stakes, intense feeling and poetic speech through your Shakespeare project and you will have further classes in singing, combat, acting for camera, improvisation, poetry, as well as deeper and more sustained scene studies in which to develop your process and hone your craft.
Contextualising Practice 2: Critical Analysis A
For 'Contextualising Practice 2: Critical Analysis A', students can choose to study up to two thematic sub-units to develop their contextual studies in new directions. The CP2 Critical Analysis units encourage students to develop their critical analysis skills gained in Level 4 to further investigate the broad over-arching themes and concepts – historical, cultural, social, political, and economic – that affect and inform the production of art, design and/or craft.
The Actors Craft 3: Acting For Screen and Television
In this unit, students will apply their craft and experience to the demands of acting for screen and television in a rigorous and detailed way. Following on from the first year introduction to acting for camera, students will work with experienced professionals with ongoing experience at a high level of the industry to learn a variety of techniques, experience being in front of the camera, critically evaluating the work as well as rehearsing scenes from extant television and film scripts.
Movement: The Actor's Body 2
Pure Movement: In this unit, students will lay the foundation for safe and expressive use of the body. Pure Movement introduces the practice of natural, functional movement appropriate to actors .Classes cover a range of movement skills, introducing systemic and exploratory exercises, teaching how to release the spine, breath, develop flexibility and demonstrating how the actor's imagination and voice cannot be divorced from movement. Work influenced by Trish Arnold, Sigurd Leeder, Litz Pisk and Laban include swings ,dimension, space, together with the dynamic movement of Grotowski's The Cat and the released posture work of Moshe Feldenkrais.
Voice and The Actor 2
This unit builds on poetry work introduced in the first year. Having been encouraged to explore physical, instinctive and creative approaches to consonant, vowel, syllable, word and thought, students' understanding is broadened out to the Shakespearean sonnets, where they respond to challenges of verse structure, including meter, rhyme, enjambment and caesura. Drawing on work from practitioners such as Linklater and Patrick Tucker, the unit aligns with other principles of voice work to build a robust, creative discipline that enables the actor's speech to become varied and expressive in response to ever more complex and heightened impulses, thence to foster a growing ability to approach any text with confidence and creativity.
Rehearsal Project 3: Shakespeare
In this unit students will engage with the practical, emotional and technical demands of Shakespeare's plays. They will learn how to speak verse, work with imagery and metaphor and apply what they have learnt in the Actor's Craft throughout the first year to complex text. Students will work in a rehearsal environment on a cut down version of a Shakespeare play and explore the psychological and spiritual dynamics of his characters and their relationships. Emphasis will be on assimilation of technique, heightened language and extreme character objectives. The work of this unit will be deftly supported by the work in other classes including voice and movement.
The Actors Craft 4: Acting For Screen and Television 2
Building on the work from term 1, students will look at development of character for screen work. Through workshopping and improvisation they will create their own characters and then lead to creating scenes for those characters to work with. The training shifts more towards preparing the actor for professional industry standards and challenges and students will explore what they as actors need to bring in order to be ready to film, how to manage a character's journey whilst working out of sequence and in a non linear pattern and how to sustain a character's living, breathing inner life in a pressurised filming environment.
Rehearsal Project 4: Black Box
This unit is designed to address the particular needs of a year group and involves the rehearsal and presentation of a classical or contemporary theatre text. It is a bridge to the third year and an opportunity for students to present a number of performances in a black box studio theatre to a public or semi-public audience. It will provide students with an experience of performing a role more than once or twice and will enable students to reinforce their established working methodology. There will be a possibility of taking this project on a local tour of schools.
Year 3
Your final year is very much about preparing for and engaging with the profession. You will work with professional directors on at least one public performance per term. You will have workshops and talks from practitioners and professionals including successful directors of stage and screen, agents, producers, casting directors, artistic directors and many more. You will have the opportunity to audition for the various awards and bursaries, including the Sam Wannamaker Festival, the Carleton Hobbs Bursary Award (which we have won and come runner up in several times in recent years) the RSC weekend and many more. You will receive advice on auditions and self-tapes culminating in a series of mock auditions. You will also take part in the annual Showcase, which will be at our new theatre in Manchester and in a West End theatre in London.
Production 1
This unit introduces students to the demands of public performance and the need to develop their work in a context that requires high levels of discipline, imagination and professionalism. Rehearsals will operate in exactly the same manner as they would in the profession: each play will rehearse full-time for 5 weeks and perform for an extended period over one or two weeks. Students work alongside a team that includes a production manager, wardrobe supervisor, stage manager, professional designers, lighting designers and other technical staff. Each production is fully realised and performed in the new Theatre before a paying audience and invited guests from the profession.
Production 2
This unit provides further opportunities for students to develop their work in front of a public audience. Play choices tend to be more ensemble in nature and this challenges the students to collaborate in the telling of a story and to call on the ensemble skills of the first year. Again, each play rehearses on a full-time basis for 5 weeks and performs over one week. Students work alongside a team that includes a production manager, wardrobe supervisor, stage manager, professional designers, lighting designers and other technical staff. Each production is fully realised and performed in the new Theatre before a paying audience and invited guests from the profession.
Production 3
This unit affords students a final opportunity to encounter the demands of public performance and to further develop their work in a context that requires high levels of technical discipline, interpretative skill, imagination and professionalism. Plays are selected and students cast in the summer season of plays at the end of the previous term. In this season, students will have a week less to rehearse in, and the emphasis of this final production will be on achieving the same or higher levels of success in a shorter time frame. Again, each production is fully realised and performed in the new theatre before a paying audience and invited guests from the profession. This is the companion unit to Theatre Productions One and Two.
The Creative Actor
In this unit, students will create a piece of work, which may involve devising, directing, writing or choreographing a piece of theatre, tv, radio or film – a project that will involve actors but in which the student themselves is unlikely to act. They will be supervised by a member of staff but the emphasis will be on independent study and rehearsals. Supervisors will expect to be regularly included on the development of the work and invited in to rehearsals. Students will be expected to undertake a wide range of research in developing this work.
The Professional Actor
In this unit, the student will undertake a series of workshops, meetings and mock audition to prepare them for the profession. They will have sessions with directors across all media as well as with casting directors, actors, producers and creators and skill sessions from industry professionals on audition preparation, self tapes, finance. There will also be mock auditions, run by industry professionals as a preparation for auditions across different media.
Assessment Methods
Continuous assessment and public performances.
Assessment Weightings & Contact Hours
10 credits equates to 100 hours of study, which is a combination of lectures, seminars and practical sessions, and independent study. A three year degree qualification typically comprises 360 credits (120 credits per year). The exact composition of your study time and assessments for the course will vary according to your option choices and style of learning, but it could be—
Study
Year 1

80% lectures, seminars or similar; 20% independent study

Year 2

80% lectures, seminars or similar; 20% independent study

Year 3

80% lectures, seminars or similar; 20% independent study
Assessment
Year 1

100% coursework

Year 2

100% coursework

Year 3

100% coursework
Visiting Tutors
Some of our recent visiting teachers and practitioners—
Naomi Ackie, Actor, Star Wars
Geraldine Alexander, Actor & Director
Sarah Amankwah, Actor
Hammed Animashaun, Actor
Mina Anwar, Actor & Director
Zawe Ashton, Actor
Mark Babych, Artistic Director, Hull Truck Theatre Company
Mick Barnfather, Teacher & Actor
Zora Bishop, Actor
George Bukhari, Actor
Lucy Campbell, Director
Ian Chesworth, Singing Teacher
Jude Christian, Associate Director, HOME
Caroline Clegg, Director
Kate Colgrave Pope, Teacher & Director
Michael Cox, Hammond Cox Casting
Kwesi Davies, Coaching For Creators
Matthew Dunster, Director
Joe England, Improvisation
Stefan Escreet, Director
Comfort Fabien, Actor
Ashley Gerlach, Actor
Rupert Goold, Artistic Director, Almeida Theatre
Darren R Gordon, Director / Acting and Presentation Coach
Burn Gorman, Actor
Thom Hammond, Hammond Cox Casting
Seb Harcombe, Director
Sir David Hare, Writer
Julie Hesmondhalgh, Actor
Elianne Hawley, Actor & TV teacher
Graeme Hawley, Actor & TV teacher
Carla Henry, Actor
Sharon Henry, Sharon Henry Management
Kaitlin Howard, Stage Combat tutor
Chris Hunter, Actor & Teacher
Jonathan Kent, Director
Oliver Kent, TV Producer
Noreen Kershaw, Actor & Director
Elliot Knight, Actor
Alastair Knights, Director
Jerry Knight-Smith, Casting Director, Manchester Royal Exchange
Neil LaBute, Writer
Omar Malik, Actor
Cheryl Martin, Writer & Director
Jonathan Martin, Director
Javier Marzan, Improvisation
Jonathan McGrath, Director & Actor & Producer
Roger Michell, Director, Notting Hill
Rachel O'Riordan, Artistic Director, Lyric Hammersmith
Mary Papadima, Director
Craig Parkinson, Actor
Maxine Peake, Actor
Madeleine Potter, Actor & Director
Quarantine, Theatre Company
Joe Gilmour Rees, Director
Kyle Rowe, JAM
Indhu Rubasingham, Artistic Director, Kiln Theatre
Ginny Schiller, Casting Director
Bryony Shanahan, Joint Artistic Director, Manchester Royal Exchange
Elizabeth Shofi, Voice
Penelope Skinner, Playwright
Teunkie van der Slujs, Director
Simon Stephens, Playwright
Hannah Stevenson
Abii Strudwicke, Voice
Imogen Stubbs, Actor, Director & Writer
David Threlfall, Actor
Si Trinder, Actor & Director
Pat Trueman, Director
Ted Van Griethuysen, Actor
Annie Wallace, Actor
Yusra Warsama, Actor & Director
Roy Alexander Weise, Joint Artistic Director, Manchester Royal Exchange
Jason Wingard, Director
Also see Directors of Final Year Productions
Graduates
Former students who have gone on to highly successful careers in film, television and theatre and graduates include Sarah Amankwah, Zawe Ashton, Zora Bishop, John Bradley, George Bukhari, Amanda Burton Steve Coogan, Ashley Gerlach, Richard Griffiths, Graeme Hawley, Zoe Henry, Bernard Hill, Noreen Kershaw, Elliot Knight, Adam Kotz, Nathan McMullen, Yasmin Mwanza, David Threlfall, John Thomson, Annie Wallace, Julie Walters CBE, Assad Zaman.
Making an Application
How to Apply
Apply through UCAS.
We will invite you for an Audition.
You will be notified of our decision through UCAS.
Entry Requirements
UCAS Tariff Points/Grades Required

104-112.

GCE A levels - grades BCC or equivalent

Pearson BTEC National Extended Diploma - grade DMM

Access to HE Diploma - Pass overall with a minimum 106 UCAS Tariff points

UAL Level 3 Extended Diploma - grade of Merit overall

OCR Cambridge Technical Extended Diploma - grade DMM

T level - We welcome applications from students undertaking T level qualifications. Eligible applicants will be asked to achieve a minimum overall grade of Merit as a condition of offer

IB Diploma - Pass overall with a minimum overall score of 26 or minimum 104-112 UCAS Tariff points from three Higher Level subjects

Other Level 3 qualifications equivalent to GCE A level are also considered.

A maximum of three A level-equivalent qualifications will be accepted towards meeting the UCAS tariff requirement.

AS levels, or qualifications equivalent to AS level, are not accepted. The Extended Project qualification (EPQ) may be accepted towards entry, in conjunction with two A-level equivalent qualifications.

Please contact the University directly if you are unsure whether you meet the minimum entry requirements for the course

Specific GCSE Requirements

GCSE grade C/4 in English Language or equivalent, e.g. Pass in Level 2 Functional Skills English

Additional Requirements

Please note the University does not accept deferred applications or advanced entry applications for this course

Audition required. The course is highly competitive and you may be called back to a second or even third audition. Further details

International Baccalaureate
IB Diploma with minimum 26 points overall or 104 UCAS Tariff points from Higher Level. If you plan to meet the Level 2 course requirements through your IB Diploma you will need to achieve Higher Level 4 or Standard Level 5 in English Points
International Students
A minimum IELTS score of 6.0 overall with no individual element below 5.5 is required.
There's further information for international students on our international website if you're applying with non-UK qualifications.
Tuition Fees
2024 Entry
The fees for 2024 entry are still to be confirmed.
See Funding your studies for further information and advice.
Additional Costs
Specialist Costs
£325*
plus optional £250*
—
Books and play texts (approx. £150)
Rehearsal clothing (skirts/trousers, shoes and shirts) in year one (approx. £75)
Professional photographs in final year (£100 - £350)
Professional Costs
Optional £123*
—
Combat certificate (approx. £20)
Joining Spotlight in final year (£103)
Other Costs
£150*
Zoo pass for animal study in first year (£50)
Return train fare to London for Showcase (£100)
* All amounts shown are estimates.