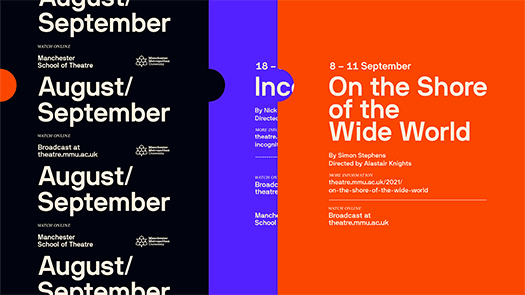 Wednesday 8

–

Saturday 11 September 2021
On the Shore of the Wide World
By Simon Stephens
Directed by Alastair Knights
Following three generations of the Holmes family, On the Shore of the Wide World is an epic play about love, family, Roy Keane and the size of the galaxy.
Eighteen-year-old Alex is preparing to introduce his girlfriend Sarah to his parents. His younger brother Christopher is immediately and completely smitten with her. Their parents, Alice and Peter, are unnerved by how quickly Alex has grown up. Peter's father Charlie is mastering card tricks and keeping his smoking a secret from his long-suffering wife Ellen. Something is about to happen that will change all their lives irrevocably, as the honest scenes of domestic family life melt to reveal a sad picture of disconnection, fragile relationships and missed moments.
On the Shore of the Wide World premiered in 2005 at the Royal Exchange Theatre, Manchester.
Cast
India Barnett – Susan Reynolds
Jake Cooke – Christopher / Taxi
Molly Crighton – Ellen Holmes
Casey Ericksen – Alex Holmes
Daniel Hird – Paul Danziger
Amelia Isaac Jones – Sarah Black
Ben Kenzie – Charlie Holmes
Jack Moorby – John Robinson
Andrew Purcell – Peter Holmes
Rachel Sims – Alice Holmes
Designer: Ellie Light
Lighting Designer: Will Evans