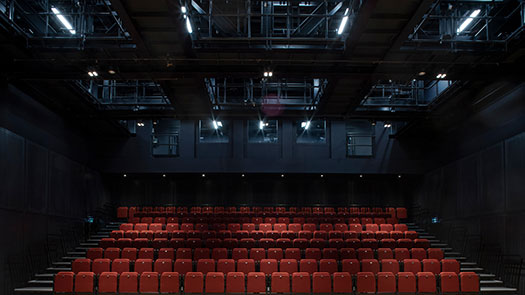 Theatre Tickets &
Information for Audiences
All are welcome to the theatre productions performed by our final year Acting students.
Tickets can be purchased through the Manchester Metropolitan University eStore provided by Flywire.
A link to buy the tickets on the eStore site will be provided on each production page when they become available.
Please see the eStore's Terms and Conditions and University Privacy Notices.
Tickets can also be purchased on the evening of the performance from The Grove eatery and bar, adjacent to the Theatre, subject to availability.
Covid-19 Precautions
Face coverings are no longer legally required on campus, but the University still encourages staff, students and visitors to wear them, if possible, when moving around crowded indoor spaces.
Ticket Prices
The standard ticket types and prices are—
Full Price (£12)
Concessionary (£7.50) *
Student from any educational institution (£5) **
* The concessionary rate is available to OAPs and also for those on low income or are unemployed for whom the saving would make a difference.
** Please bring your student ID card.
Refunds
If you discover that you can no longer attend a performance, please contact us at artdesmarketing@mmu.ac.uk as soon as possible to cancel your ticket. Refunds are only possible if tickets for that production are still on sale.
Venue & Accessibility
Performances will take place in the high specification Theatre space located in Manchester Metropolitan University's Grosvenor East building.
The main entrance to the building is on Cavendish Street, off Oxford Road, Manchester M15 6BG.
This brand new space is designed to be fully accessible to all, including wheelchair users. Induction loops are available for those who are hard of hearing. If you require any assistance, please contact the Facilities team at the building reception or telephone 0161 247 1116.
Parking & Travel
The University does not have a visitor car park, local on-street parking is limited and time restricted. But large public car parks are available nearby on Booth Street. The Theatre is also easily accessible by public transport.
Please see the University Travel page for more information.