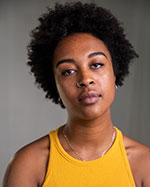 Zuna Newman
BA (Hons) Acting – Graduated 2023
| | |
| --- | --- |
| Playing age | 16 - 25 |
| Height | 5' 8'' |
| Eye colour | Brown |
| Hair colour | Very Dark Brown/ Black |
| Spotlight | 7570-3420-4456 |
Watch or listen
Play
Moving On Up by Zuna Newman
Play
JOBS by Logan Jones, featuring Zuna Newman and Jessica Gough. Directed by Elianne Hawley and Graeme Hawley.
Productions whilst training
Workshops
A Doll's House (James Nickerson)
A Profoundly Passionate Affectionate Devotion to Someone (-noun) (Carla Henry)
Acting for Camera (Graeme Hawley & Elianne Hawley)
Acting for Camera (Carla Henry)
Acting for Radio (Stefan Escreet)
Devised Project (Cheryl Martin)
Ensemble (Emma Bonnici)
Improvisation (Mark Winstanley & Javier Marzan)
Laboratory Theatre (Patrick Campbell)
R&D Workshop (Roy Alexander Weiss)
Shakespeare (Madeleine Potter)
Singing (Ian Chesworth)
Stage Combat (Kaitlin Howard)
The Effect (James Nickerson)
Uncle Vanya (James Nickerson)
Other training
Carney Academy
Accents
Sheffield (Native), Manchester, Leeds, RP, American (Standard), Australian.
Other skills
Djing/mixing, Singing, Netball, Basketball.