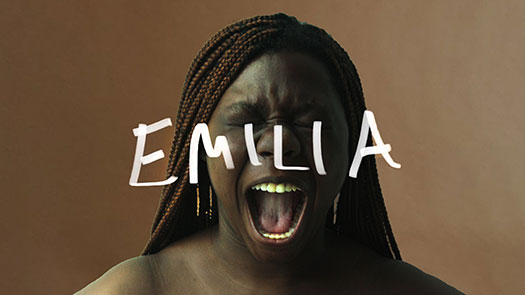 Thursday 13

–

Saturday 15 October 2022
Emilia
By Morgan Lloyd Malcolm
Directed by Kate Colgrave Pope
By arrangement with Nick Hern Books.
In 1611 Emilia Bassano wrote a volume of radical, feminist and subversive poetry. It was one of the first published collections of poetry written by a woman in England. The little we know of Emilia Bassano is restricted to the possibility that she may have been the 'Dark Lady' of Shakespeare's Sonnets – and the rest of her story has been erased by History.
Morgan Lloyd Malcolm has taken what we know of Bassano, and her poetry, to create this boisterous, witty, irreverent play, winner of the Noel Coward Award for Best Entertainment or Comedy at the 2020 Olivier Awards.
Cast
Rochai Payne – Emilia 1
Zuna Newman – Emilia 2
Teddy Oyediran – Emilia 3
Ellen Hovmand – Mary Sidney / Hester / Dave
Ellie Campbell – Susan Bertie The Countess Of Kent / Desdemona / Man 2
Azaelia Slade – Lady Helena / Eve / Bob
Hannah Tibbott – Lady Cordelia / Flora
Helena Braithwaite – Lady Katherine
Jessica Gough – Lord Henry Carey / Emilia (Othello) / Man 1
Chloe-Lee Pembleton – Lord Howard / Judith
Kelsey Ann Moebius – Lord Collins / Lady Anne
Adelina Lece-Bere – Lord Alphonso Lanier
Abbie Verity – William Shakespeare
Marina Hata – Lady Margaret Clifford / Midwife
Harley Bird – Margaret Johnson / Mary
Designed by Lara Booth
Lighting by Doug Kuhrt