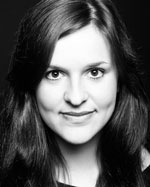 Katie Norris
BA (Hons) Acting – Graduated 2012
| | |
| --- | --- |
| Playing age | 18 - 26 |
| Height | 5' 6'' |
| Eye colour | Brown |
| Hair colour | Brown |
| Spotlight | 3811-6758-8816 |
News
Katie Norris is in rep at the Theatre by the Lake in 'Comedy of Errors' 'Dracula' and 'Rookery Nook'.
Productions whilst training
Professional credits
| Role | Production | Director | Organisation |
| --- | --- | --- | --- |
| Ensemble | Doctor Faustus | Toby Frow | Manchester Royal Exchange |
| TV Crew | The Demolition Man | David Thacker | Bolton Octagon |
| Various | Norris & Parker's Life Classes (Sketch Show) | Written and directed by Katie Norris & Sinead Parker | Lass O'Gowrie |
Workshops
Clowning (Mick Barnfather)
TV (Karen Henthorn)
Stage Combat (Renny Krupinski & Kaitlin Howard)
Accents
RP (Native), West Country, Bristol, Cockney, Yorkshire, Manchester, Australian, Scottish, American (General, Southern & New York), Spanish, French.
Other skills
Singing (Soprano - Strong); Trinity Guildhall Grade 7 Classical (Distinction), Experienced choral singing, Trinity Guildhall ATCL Diploma (Performing Musical Theatre), Trinity Guildhall Musical Theatre (Group) Grade 8 (distinction), Trinity Guildhall (Group) Devising Grade 8 (Distinction), Proficient alto saxophone and recorder, Musically literate. Good ear for accents. Skiing, Horse riding, Full clean driving license, Level one stage combat (BADC).