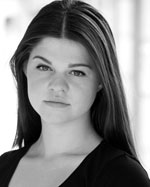 Caitlin Drabble
BA (Hons) Acting – Graduated 2014
| | |
| --- | --- |
| Playing age | 16 - 25 |
| Height | 5' 7'' |
| Eye colour | Brown |
| Hair colour | Dark Brown |
| Spotlight | 0692-0194-2904 |
News
Caitlin Drabble is appearing as Rochelle Reigner in CASUALTY (BBC) and Carly in SEX EDUCATION 3 (Eleven Films/Netflix).
Congratulations to Caitlin who will be appearing as Carly in Season 3 of 'Sex Education'. You can also see Caitlin as Margaret Fairfax in 'Miss Scarlett and the Duke' starring Kate Phillips on SkyTV/Amazon Prime.
Caitlin will be appearing as Margaret Fairfax in Miss Scarlett and the Duke.
Caitlin has played Ruby Jewel in the BBC's Father Brown
Productions whilst training
| Role | Play | Director |
| --- | --- | --- |
| Titania | A Midsummer Night's Dream | Helen Strange |
| Vassilissa Karpovna | The Lower Depths | Madeleine Potter |
| Squealer | Animal Farm | Caroline Clegg |
| Portia | The Merchant of Venice | David O'Shea |
| Polly / Jenny | The Threepenny Opera | Gabriel Gawin |
| Negina | Artistes and Admirers | Kate Colgrave Pope |
Professional credits
| Role | Production | Director | Organisation |
| --- | --- | --- | --- |
| Gertrude | Hamlet | Ian Smith | The Television Workshop |
| Ensemble | S'Warm | Peter Collins | National Youth Theatre |
| Lillie Lee (lead) | The Heights | Nic Harvey | The Television Workshop (National Theatre Connections) |
Workshops
Acting for Camera (Karen Henthorn)
Animal Studies (Jackie Snow)
Period Dance (Jackie Snow)
Stage Combat (Renny Krupinski & Kaitlin Howard)
Clowning (Mick Barnfather)
Singing (Ian Chesworth)
Writing (Charlie Moritz)
Acting for Radio (Stefan Escreet)
Other training
The Television Workshop, National Youth Theatre
Accents
East Midlands (Native), Nottingham, RP, General American, Southern American, Northern Irish, General Northern
Other skills
Cello (Grade 5), Stage Combat (APC 1st Hons), Drama Workshop Leader, Photography