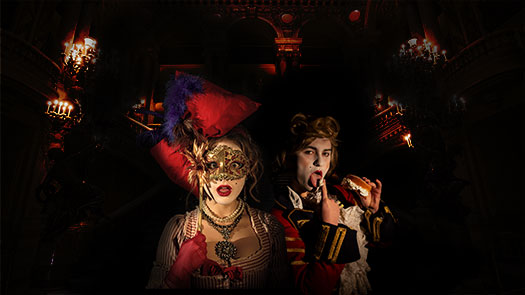 Thursday 6

–

Saturday 8 February 2020
The Beau Defeated
By Mary Pix
Directed by Fiona Buffini
Unhampered by manners or good taste, Mrs Rich runs riot through high society aspiring to rub shoulders with the great and the good. Taking full advantage of her desperation and wealth, the pilfering Mrs Trickwell advises Mrs Rich on how best to conduct herself, and sends her sailing from one embarrassment to the next until she falls for the notorious charms of local womaniser, Sir John Roverhead. Meanwhile the handsome and virtuous Clerimont is refusing all company since discovering his fortune has been seized by his pompous elder brother. But will a chance meeting with a masked stranger change that?
Recently seen at the RSC, Mary Pix's hilarious play is all that is best about the Restoration archetype: a world of roaring playboys, duplicitous widows and savvy maids – a colourful cast of characters who stop at nothing to pursue fortune and glory. It is a wild world of mischief-making and sassy plot twists guided by a sharply satirical and distinctly female wit. Mary Pix was one of the great playwrights of the Restoration and unlike Aphra Behn, she was almost lost to history. The Beau Defeated is undoubtedly her finest work.
Director Fiona Buffini was recently associate director at the Nottingham Playhouse and we're delighted to have her directing with us once again.
Cast
Lady Landsworth – Caitlin Kaur
Mrs Rich – Bella McKenty
Betty – Georgiana Casbarra
Lucinda – Alexandra O'Neill
Mrs Clerimont – Madeleine Sidi
Mrs Fidget / Governess – Lori Nicholson
Lady La Bassett – Cat Hajduk
Mrs Trickwell – Hannah Brownlie
Sir John Roverhead – Kieron Michael
Elder Clerimont – Andrew Dawson
Younger Clerimont – Jay Olpin
Belvoir – Matt Pettifor
Mr Rich – Sam Boskovic
Chris – Tom Garside
Toby – Garion Frith
Jack – Paddy Stafford
Coachman – Andrew Dawson
Other played by members of the company
Designer – Frankie Gerrard