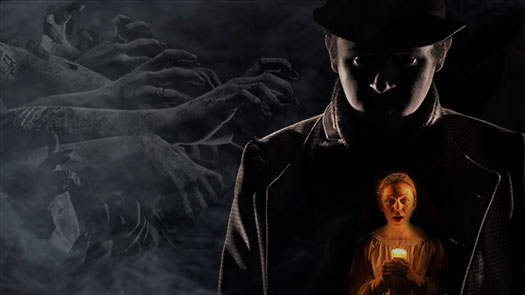 Thursday 27

–

Saturday 29 February 2020
Coram Boy
By Jamila Gavin, Adapted by Helen Edmundson
Directed by Stefan Escreet
By arrangement with Nick Hern Books.
In 1739 Thomas Coram established his Foundling Hospital, a home for unwanted children. Into this world fall Aaron and his best friend Toby, one the unknowing heir to a vast fortune and the other rescued from an African slave ship. Aaron's gift for music exposes both boys to the dark underbelly of Georgian society. Soon they are on a dangerous journey to unravel their pasts and forge their destinies.
Based on Jamila Gavin's Whitbread Children's Book of the Year Award-winning novel, Coram Boy is a gripping family saga that exposes an era blighted by slavery and the ill-treatment of children.
The original production of Coram Boy played at the Royal National Theatre and then on Broadway, where it was nominated for a multitude of Tony, Drama Desk and Outer Critics Circle awards.
Stefan Escreet is Artistic Director of Ragged Edge Productions and former Associate at the Theatre By The Lake. He is a regular director at MST and we're delighted he's joining us again.
Cast
Mrs Lynch – Heather Horsman
Miss Price / Mrs Hendry, Edward Ashbrook – Jeanie Barnsley
Thomas Ledbury (as a boy) / Molly Jenkins – Anna Wylder
Alexander Ashbrook (as a boy) – Ida Regan
Lady Ashbrook – Gina Jamieson
Isobel Ashbrook – Hannah Flowers
Mrs Millicote – Tania Shahdi
Melissa – Beth Turton
Toby (as a boy) – Talia Nyathi
Aaron (as a boy) – Ida Regan
Meshak Gardiner – Zak Ford-Williams
Dr Smith / Handel – Garion Frith
Otis Gardiner / Phillip Gaddern – Sam Arthur
Theodore Claymore – Tom Garside
Sir William Ashbrook – Bailey Brook
Alexander Ashbrook (as an adult) – Sean Radford
Thomas Ledbury (as an adult) – Matt Waller
Other parts played by members of the company
Designer – Elizabeth Wright