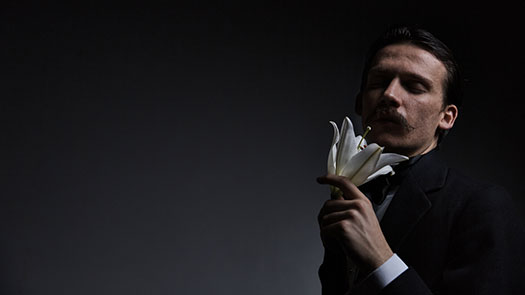 Thursday 1

–

Saturday 3 March 2018
A Waste of Time
By Robert David MacDonald
Directed by Seb Harcombe
Robert David MacDonald's ambitious adaptation of Marcel Proust's epic novel Remembrance of Things Past (A la recherche du temps perdu), unveils a world of sexual intrigue, jealous rivalries and deceit amid the changing social fabric of late nineteenth and early twentieth century France.
Dealing with themes and ideas related to memory, feelings of anxiety, the meaning of art and the loss of innocence, the play weaves together a series of perceptions and reflections on modernity and the value of democracy.
American novelist Edmund White has described Remembrance of Things Past as 'the most respected novel of the twentieth century'.
Cast
Mme La Marquise du Villeparisis – Georgina Russell
Odette de Crecy – Lucy Simpson
Marcel – Christy Matthews
Charles Morel – Seung Jae Lee
Albert/Dechambre – Andrew Long
Robert de Saint-Loup – Joel Black
M Le Baron de Charlus – Jack Cave
Albertine – Zoe Villiers
Gilberte Swann – Kailey McGowan
Rachel – Millie Gaston
Mme La Duchesse de Guermantes – Madeleine Daly
Andree – Eloise Power
Jupien – Ned Cooper
Cottard – Robin Lyons
Francoise – Michaela Forbes
Mme Verdurin – Gabrielle Woolner
M le Duc de Guermantes – James Coutsavlis
Charles Swann – Cameron Waghorn
Designer: Olivia Du Monceau