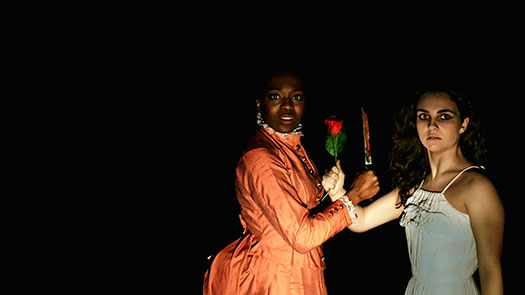 Thursday 2

–

Saturday 4 March 2017
Lorca - Double Bill
By Federico Garcia Lorca, Translated by Gwynne Edwards
Directed by Alan Dunnett
Nationalist sympathisers murdered Spain's most celebrated dramatist Federico García Lorca shortly after the outbreak of the Civil War in 1936. His innovatory plays are renowned for their evocation of the profound and primitive passions of Spanish peasant life.
Blood Wedding
'Blood Wedding is undoubtedly the greatest of Lorca's plays… It is, clearly, the play on which Lorca's international reputation has been built. '
'Under a burning and unrelenting sun, two families prepare for a wedding with anticipation. Their destinies will be forever marked by their traditions, passions and suppressed past.'
Doña Rosita the Spinster
Will Dona Rosita's sweetheart return from South America? Who are the three young girls who frequently visit the Alhambra? Why do the teacher of political economy and the disabled Don Juan visit the house and where does Rose Mutabilis fit into the story?
Set in sharp contrast to Blood Wedding, Lorca's Doña Rosita the Spinster, is a witty and movingly poetical portrayal of the plight of the central character.
'…a searing drama of lost love and hope' — British Theatre Guide
'Our hearts break as we see a vivid young woman, fresh as one of her uncle's beloved roses, condemn herself to an arid life in a changing but still rigid society through her misplaced loyalty to a feckless fiance.' — Curtain Up Review
Cast
Blood Wedding
The Mother – Elaine McNicol
The Bride – Sarah Day-Smith
Mother-In-Law – Amy Beckett
The Neighbour / The Servant – Rachael Gill-Davis
The Wife of Leonardo – Fiona Munro
Death (as a Beggar Woman) – Tayla Kenyon
Leonardo – Nathan Carter-Dale
The Bridegroom – Jacob Kendall
The Father of the Bride – Ali Gadema
Doña Rosita the Spinster
Doña Rosita – Yasmin Mwanza
The Housekeeper – Brogan Thompson
The Aunt – Lucy Padwick
The Uncle – Matthew Gee
The Mother – Tayla Kenyon
The Nephew – Daniel Waterhouse
Youth/Teacher of Political Economy (Mr X) – James Farley
Don Martin – Callum James
Various other roles to be cross-cast by members of each Lorca Company
Designer: Olivia Du Monceau