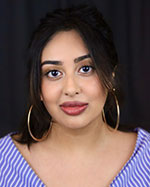 Noor Hadid
BA (Hons) Acting – Graduated 2023
| | |
| --- | --- |
| Playing age | 18 - 30 |
| Height | 5' 3'' |
| Eye colour | Brown |
| Hair colour | Black/dark Brown |
| Spotlight | 5736-5618-5188 |
News
Noor Hadid is currently rehearsing Vitamin D by Saher Shah, which will tour the North West before opening in London. Noor was recently on tour playing Bushra in Cinder'Aliyah, in the UK's first Muslim themed panto. She will also soon to be involved in an R&D of Millennial Pink with HER Productions and HOME, Waterside Arts, IOU Theatre and The Lowry.
Watch or listen
Play
Sorry I Can't Make It by Jamie Weston
Contains some strong language 
Play
VIEWING by Steffan Wilson-Jones, featuring Noor Hadid and Helena Braithwaite. Directed by Elianne Hawley and Graeme Hawley.
Play
Commercial audio reel, directed by Rachel Austin
Productions whilst training
| Role | Play | Director |
| --- | --- | --- |
| Hattie Jekyll | Jekyll and Hyde | Nickie Miles-Wildin |
| Nina/Ensemble | The Room Inside The Star | Carla Henry |
| Serena | A Profoundly Affectionate, Passionate Devotion To Someone (-Noun) | Carla Henry |
| Lady Macbeth | Macbeth | Séan Aydon |
| Isabella | Measure For Measure | Séan Aydon |
| Regan | King Lear | Séan Aydon |
| Sonya | Uncle Vanya | David Salter |
| Connie | The Effect | David Salter |
Professional credits
| Role | Production | Director | Organisation |
| --- | --- | --- | --- |
| Della | First Bites: Legend | Georgia Murphy | Bolton Octagon |
| Nahid | Nahid | Ellie Rose | Oldham Coliseum |
| Conrad/watcher | Much Ado About Nothing | Kayleigh Hawkins | HER Productions at Hope Mill Theatre & Shakespeare North |
| Kat | UCLAN Podcast Series Episode 5 | Alexandra Keelan | UCLAN |
| Steph | Hen | Kash Arshard | Stephen Joseph Theatre |
| Shabnam/Mulberry | Simon Stephens Presents | Darren Sinnott | Royal Exchange Theatre |
| Fiza | Halal Hens | Channique Sterling-Brown | HER Productions at Hope Mill Theatre |
| Nia/Waitress | Blank Suit | Maz Hedgehog | Switch MCR Theatre Company |
| Anna | Time Travel | Isobel Glenton | BFI Film Academy at HOME |
| Bushra | Cinder'Aliyah | Abdullah Afzal | Penny Appeal - The Great Muslim Panto Tour |
| Mitzi | Glint | Stewart Campbell | Qweerdog Theatre Company |
| Derya | Whirling | Savannah Acquah | Qweerdog Theatre Company |
| Farrah | A Slice of Don't Give a F$ck | Hannah Tyrrell-Pinder | Box of Tricks at HOME MCR |
| Performer/Ensemble | Millennial Pink | Megan Marie Griffith | HER Productions/Girl Gang Manchester |
| Friend | Vitamin D | Melina Namdar | Rosemary Branch Theatre, Lawrence Batley Theatre, Bolton Octagon, The Edge |
Workshops
A Profoundly Passionate Affectionate Devotion to Someone (-noun) (Carla Henry)
Acting for Camera (Carla Henry)
Acting for Radio (Stefan Escreet)
Audio Book Workshop (Orion Books)
Devised Project (Carla Henry)
Ensemble (Emma Bonnici)
Improvisation (Joe England)
Improvisation (Mark Winstanley & Javier Marzan)
Laboratory Theatre (Patrick Campbell)
R&D Workshop (Roy Alexander Weiss)
Shakespeare (Sean Aydon)
Singing (Ian Chesworth)
Stage Combat (Kaitlin Howard)
The Effect (David Salter)
The Seagull (David Salter)
Uncle Vanya (David Salter)
Other training
Drama Centre London (UAL) | Foundation in Acting, 1 year, 2018-2019
Accents
Manchester (Native), Standard English, London, RP, General American, Southern American, Liverpool, Yorkshire, Scottish Standard, Pakistani, Welsh Standard
Other skills
Period Dancing, Ballet, Alto, Poetry Reading, Improv, Mask, Radio Drama, Story Telling, Voice Acting, Tennis, Hockey, Yoga, Stage Combat (APC Basic Unarmed & Knife), Alexander Technique, Devising, Director, Producer, Writer, Car Driving License