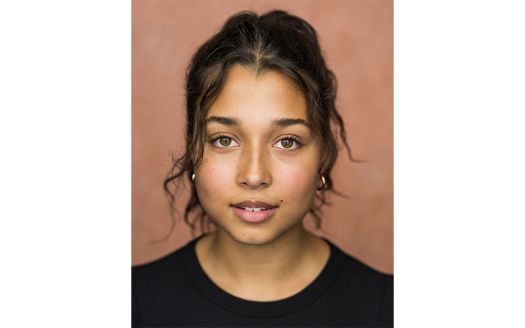 New theatre graduate makes screen debut in star-studded whodunnit
11 September 2023
Phoebe Licorish bags coveted role alongside acting greats
An up-and-coming actor is making her TV debut in a major new adaptation of an Agatha Christie novel just weeks after graduating from Manchester Met's Manchester School of Theatre.
The casting team for BBC One and iPlayer's Murder is Easy spotted fresh graduate Phoebe Licorish's immense acting talent, selecting her for the role of Rose.
Filming is currently underway in Scotland for the two-part thriller made by Mammoth Screen (The Serpent, World on Fire) and Agatha Christie Limited (And Then There Were None, Death on the Nile).
Phoebe is putting her recent drama training to good use alongside industry greats such as Penelope Wilton (Downton Abbey), Douglas Henshall (Shetland, In Plain Sight), Tamsin Outhwaite (Ridley Road, The Tower) and Mark Bonner (World on Fire, Guilt).
Set in 1954, Murder is Easy tells the story of a killer on the loose in the sleepy English village of Wychwood under Ashe. The villagers believe the deaths are accidents, but Miss Pinkerton (Penelope Wilton) knows otherwise – and when she's later found dead on her way to make a report, Fitzwilliam (David Johnson) vows to find the killer before they strike again.
Manchester School of Theatre's Senior Lecturer in Acting James Nickerson said: "We take real pride in our students' achievements as professional actors, and we couldn't be happier hearing this most recent exciting news about Phoebe.
"As daunting as working alongside the likes of Penelope Wilton, Mark Bonnar and Douglas Henshall will be, Phoebe's innate talents, natural presence, emotional intensity, and authenticity will allow her to not only hold her own, but to shine in her screen debut.
"We've been so proud of Phoebe's development as an actor during her training so her success in the industry since leaving comes as no surprise to us. Long may it continue!"
Manchester Met's Manchester School of Theatre has produced a long line of successful acting talent including John Bradley (Game of Thrones), Zawe Ashton (Fresh Meat), Yasmin Mwanza (Spiderman: Far From Home), Elliot Knight (The Color of of Space) and multiple award-winner Julie Walters.
Murder is Easy will air on BBC One and iPlayer in the UK, and on BritBox International's streaming service in the US, Canada and South Africa (date TBC).