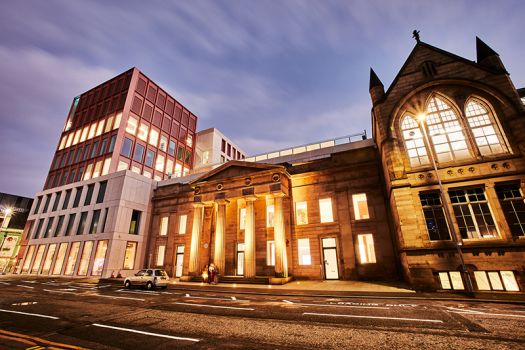 Manchester Met celebrates creative excellence at Grosvenor East launch
10 March 2023
Impact on region's creative sector showcased at new cultural hub
Manchester Met's investment in creative skills and its impact on the region's cultural scene has been celebrated by industry leaders at an event to officially launch the University's Grosvenor East Building.
Home to Manchester Poetry Library, the first public poetry library in the North West, Manchester Writing School led by former poet laureate Carol Ann Duffy, and the prestigious Manchester School of Theatre, the new creative hub champions and supports the next generation of creative talent.
The creative industries are worth more than £150 billion to the UK economy and more than £4 billion to Greater Manchester. In 2017 Manchester Met played a vital part in helping to make Manchester a UNESCO City of Literature.
Grosvenor East forms part of the University's wider strength in teaching and research for the creative and cultural industries, and builds on its rich history of training creative talent. It includes Manchester School of Art, Manchester School of Architecture and the School of Digital Arts, which recently welcomed Oscar-winning film director Danny Boyle to work with students.
At the event, notable figures from the city's cultural scene were treated to a series of inspirational speeches by world-leading academics and creatives, including award-winning Manchester Writing School lecturers Dr Monique Roffey, author of the Costa winning Mermaid of Black Conch, celebrated playwright Professor Simon Stephens, and Anjum Malik, who was named one of Manchester's first Multilingual City Poets.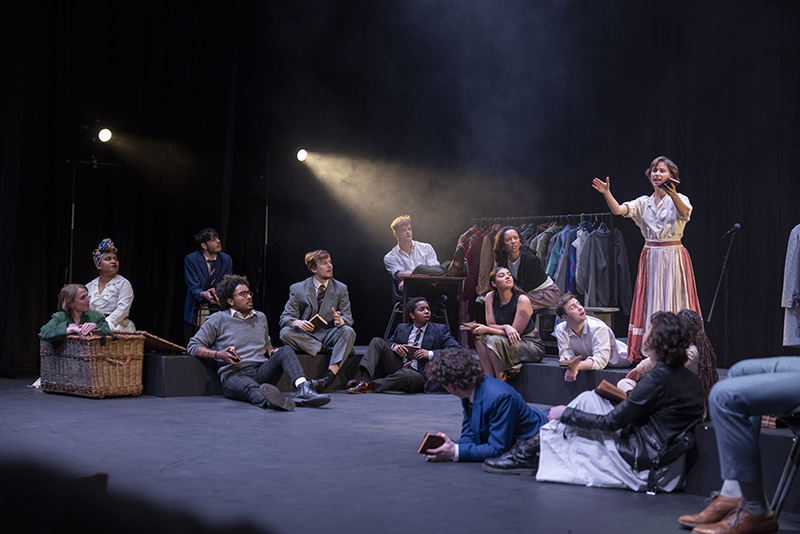 Professor Malcolm Press, Vice-Chancellor of Manchester Met, said: "Our University is not just about knowledge, but also about doing. This is a faculty where traditional humanities disciplines like English and history rub shoulders with the arts and skills of painting, acting, fashion, film and photography.
"We are confident about investing in creative subjects and dedicated to the arts and skills of telling stories, blending traditional and digital techniques, and making voices heard."
Situated on the Oxford Road corridor, Grosvenor East opened for use during the pandemic and has already proven to be an inspirational landmark venue for arts and humanities, which is open to the community through its public poetry library and theatre.
Its state-of-the-art professional television and radio studios, flexible theatre space and acting studios help launch the careers of budding creatives, set to join the ranks of Manchester Met's glittering alumni such as Julie Walters, Steve Coogan and David Threlfall and, more recently, John Bradley and Zawe Ashton.
Thanks to Manchester Writing School, the largest writing school in the UK, more than 100 students and graduates have embarked on publishing careers, launching first books and winning almost every major literary prize, while ground-breaking arts and humanities research projects like Manchester Voices and Thread Bearing Witness have helped shape creativity in the region and beyond.