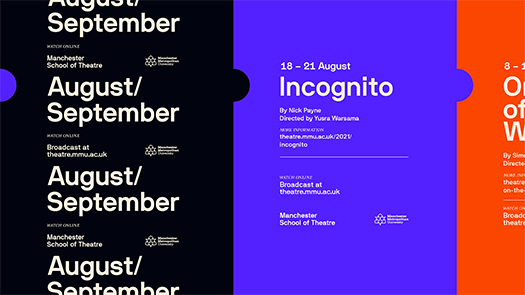 Wednesday 18

–

Saturday 21 August 2021
Incognito
By Nick Payne
Directed by Yusra Warsama
"Our brains are constantly, exhaustively working overtime to deliver the illusion that we're in control, but we're not. The brain builds a narrative to steady us from moment to moment, but it's ultimately an illusion. There is no me, there is no you, and there is certainly no self; we are divided and discontinuous and constantly being duped."
Princeton, New Jersey. 1955. Thomas Stoltz Harvey performs the autopsy on Albert Einstein - and then steals his brain. Bath, England. 1953. Henry undergoes pioneering brain surgery. The surgery changes Henry's life, and the history of neuroscience. London, England. The Present. Martha is a clinical neuropsychologist. When her marriage breaks down she starts to make radically different choices.
Three interwoven stories exploring the nature of identity and how we are defined by what we remember, Incognito is an exhilarating exploration of what it means to be human.
Incognito premiered at Live Theatre, Newcastle, in April 2014.
Cast
Marley Brown – Thom Harvey
Tom Eastwood – Victor Millner & Greg Barroclough
Andrew Evans – Michael Wolf & Otto Nathan
Greta Hansen – Evelyn Einstein & Lisa-Scott Hannigan
Kelton Hoyland – 'Anthony' & Ben Murphy
Matt Leaman – Hans Einstein & Freddy Myers & Jon Williams
Amelia Lloyd – Margaret Thomson
Laura Masters – Patricia Thom
Ntombizodwa Ndlovu – Martha Murphy
Cal Newman – Henry Maison
Laura Sharma – Brenda Walsh & Anna Vann & Sharon Shaw
Kitty Watson – Eloise Harvey
Designer: Kirsty Barlow
Lighting Designer: Tracey Gibbs