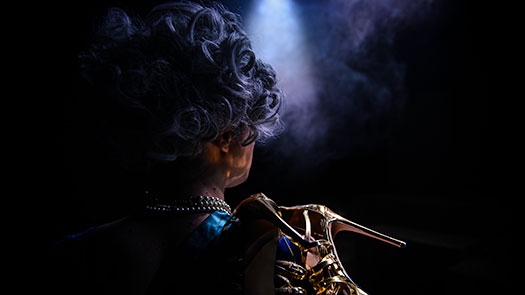 Wednesday 9

–

Saturday 12 June 2021
Babies
By Jonathan Harvey
Directed by Joe Gilmour-Rees
Babies is a warm-hearted, buoyant and delightful comedy from award winning writer Jonathan Harvey.
Liverpudlian Joe Casey is twenty-four and a form tutor at a south-east London comprehensive. Alternately advising and battening down a group of fourteen-year-olds with a mixture of naivety and Scouse nous, Joe keeps his homosexuality a secret from the insult-slinging Year Nines. At home, he is flummoxed by his partner Woody's reliance on drugs. Then there is a pupil's birthday party to negotiate: Joe must fend off the advances of her rapacious, wisecracking mum, only to find himself entangled with her uncle.
Based on Harvey's own experiences as a teacher, Babies premiered at the Royal Court Theatre in 1994.
Cast
Beth Lily-Banks – Sonya Sweeney
Scarlett Barnfather – Manda
Isobel Donkin – Simone
Tom Eastwood – Ernie Sweeney
Stefanie-May Hammoudeh – Ivy Williams / Val Pinkney
Greta Hansen – Kelly
Daniel Hird – Drag Queen & Woody
Kelton Hoyland – David
Ben Kenzie – Kenny
Laura Masters – Tammy
Jack Moorby – Richard
Olivia Owen – Gemma Sweeney
Andrew Purcell – Joe Casey
Laura Sharma – Vivian Williams
Designer: Kirsty Barlow
Lighting Designer and Video Designer: Tracey Gibbs