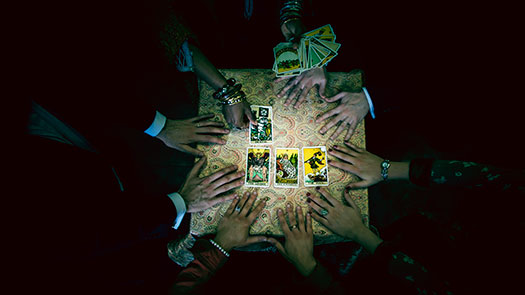 Thursday 1

–

Saturday 3 June 2017
Blithe Spirit
By Noël Coward
Directed by Chris Hayes
Legend has it that Noël Coward wrote Blithe Spirit in six days on a trip to North Wales with his actress friend Joyce Carey in May 1941. It opened a month later in Manchester and then at London's Piccadilly Theatre, where it was an instant success, becoming one of the West End's longest-running shows.
In Blithe Spirit, Charles Condomine, a novelist and socialite, receives a visit from his first wife, Elvira. Unfortunately, Charles is now married to Ruth and Elvira is a ghost. Elvira, who has been dead for seven years, makes continual attempts to disrupt Charles' marriage to his second wife, who can neither hear or see the ghost.
Perhaps Coward's most mature, best-constructed work, Blithe Spirit is certainly one of his funniest.
Cast
Ruth Condomine – Lara de Vos
Charles Condomine – Matthew Gee
Elvira – Jasmine Perkin
Dr Bradman – James Farley
Mrs Bradman – Alice Hutchinson
Madame Arcati – Yasmin Mwanza
Edith – Brogan Thompson
Designer: Liz Wright