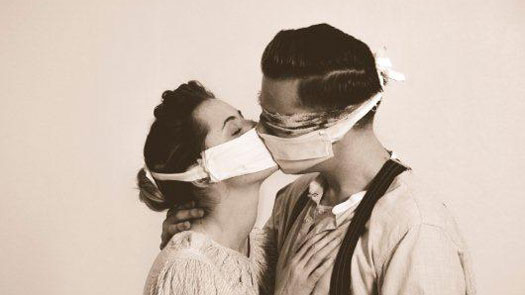 Thursday 5

–

Saturday 7 November 2015
Unity (1918)
By Kevin Kerr
Directed by Stefan Escreet
In the fall of 1918, a world ravaged by four years of war was suddenly hit by a mysterious and deadly plague — the "Spanish Flu." The illness struck not only the young and the elderly, but also people in the prime of their lives, advancing rapidly toward mortality in its victims. This phenomenon in effect brought the terror, the panic, the horror and the sense of helplessness of the Great War home with the returning soldiers — more people died of this epidemic than had been killed in battle. As fear of the dreaded flu begins to fill the town of Unity with paranoia, drastic measures are taken. The play is a gothic romance, filled with dark comedy and the desperate embrace of life at the edge of death.
A work of powerful and moving familiarity, a kind of secular liturgy that celebrates love, sex, death and the sorrowful mysteries of war and plague. It's also painfully funny.
Kerr shows a gift for creating genuinely ordinary people who can expand on great thoughts even as they trip over their own flaws.
Cast
Beatrice — Fay Jagger
Sissy — Laura Ferries
Sunna — Bryony Miller
Hart — Johnny Byrom
Michael/Glen/Man 2 — Lewis Molyneux
Mary — Hannah Duffy
Rose — Amy Balmforth
Doris — Caroline Gray
Stan/Man 1/Cheperone — Daniel Harkin

Designer: Olivia Du Monceau