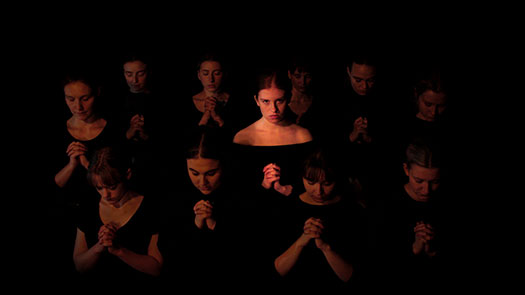 Thursday 24

–

Saturday 26 February 2022
The Welkin
By Lucy Kirkwood
Directed by Fiona Buffini
An amateur production by arrangement with Nick Hern Books.
One life in the hands of 12 women.
Rural Suffolk, 1759. As the country waits for Halley's comet, Sally Poppy is sentenced to hang for a heinous murder.
When she claims to be pregnant, a jury of 12 matrons are taken from their housework to decide whether she's telling the truth, or simply trying to escape the noose.
With only midwife Lizzy Luke prepared to defend the girl, and a mob baying for blood outside, the matrons wrestle with their new authority, and the devil in their midst.
Cast
Sally Poppy – Heather Campbell-Ferguson
Hannah Rusted – Ffion Eleri Evans
Judith Brewer – Yasmin Connolly
Charlotte Cary – Catherine Attwood
Mary Middleton – Rosie Walker
Peg Carter – Amy Dewsnip
Helen Ludlow – Jess Perillo
Emma Jenkins – Elizabeth Meadows
Elizabeth Luke – Claudia Whitby-Tillott
Kitty Givens – Ella Ironside
Sarah Smith – Frankie Lipman
Ann Lavender – Maia Mackenzie
Sarah Hollis – Amelia Simpson
Mr Coombes – Mark Emmons
Frederick Poppy / Justice / Dr Willis – William Meek
Lady Wax – Amy Dewsnip
Designer: Sascha Gilmour
Lighting Designer: Douglas Kuhrt
Assistant Director: Izzy McKenty
Fights: Kaitlin Howard