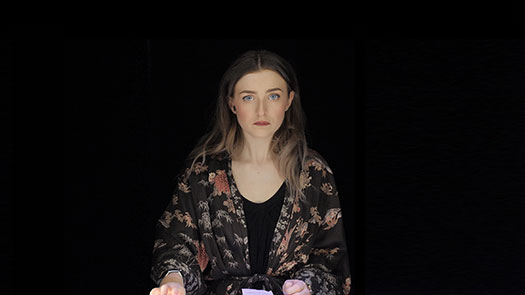 Wednesday 26

–

Saturday 29 January 2022
Linda
By Penelope Skinner
Directed by David Salter
'I'm an award-winning business woman. I'm happily married with two beautiful daughters and I still fit in the same size ten dress suit I did fifteen years ago. What could possibly threaten me?'
Linda Wilde has dedicated her life to changing the world but over a few short days, her entire world falls apart.
Performances
Wednesday 26 January (7.15pm)
Thursday 27 January (7.15pm)
Friday 28 January (2pm & 7.15pm)
Saturday 29 January (7.15pm)
You will be able to watch this performance online on this page between 26 and 29 January.
Cast
Linda – Frankie Lipman
Alice – Maia Perry
Bridget – Heather Campbell-Ferguson
Amy – Ella Ironside
Stevie – Yasmin Connolly
Dave – Andrew Halstein
Neil – Jimmy Roberts
Luke – Tomás Azocar-Nevin
Designer: Frankie Gerrard
Lighting: Tracey Gibbs
Assistant Director: Alex O'Neill
Fights: Kaitlin Howard
Voice Support: Abii Strudewicke
This video contains depictions of blood, self-harm, suicide and sexual assault. It also includes flashing lights.