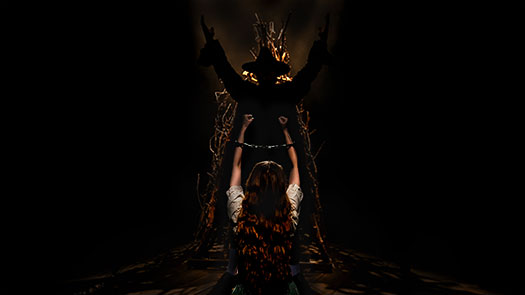 Wednesday 28

–

Saturday 31 July 2021
Vinegar Tom
By Caryl Churchill
Directed by Mary Papadima
"Man in black… man in black met me in the night, took me in the thicket and made me commit uncleanness unspeakable."
With potent images of disturbing injustices, Vinegar Tom uses a seventeenth-century witch hunt to condemn the past and present oppression of women. Alice sleeps with a man she does not know. Her mother Joan owns an old cat, and curses when her neighbours are cruel to her. Betty does not want to marry the man she is supposed to. Susan doesn't want to be pregnant. These women are subjected to the humiliating investigations of doctors and witch hunters, and forced into self-loathing and panic and hatred. The play is striking beyond its historical setting in its depiction of women's subjugation and repression.
Vinegar Tom was first presented in 1976 at the Humberside Theatre, Hull.
Cast
Beth Lily-Banks – Goody
Scarlett Barnfather – Alice
Natalie Bottova – Betty
Lucy Carter – Margery
Isobel Donkin – Joan
Stefanie-May Hammoudeh – Ellen
Daniel Hird – Jack
Ben Kenzie – Packer
Olivia Owen – Susan
Other parts played by members of the company
Designer: Ellie Light