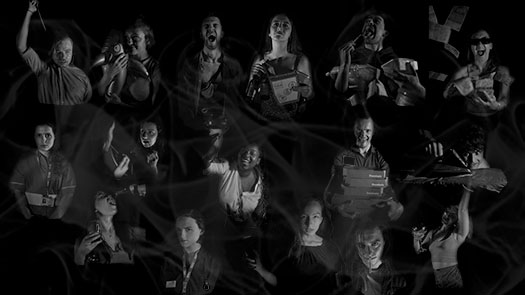 Wednesday 12

–

Saturday 15 May 2021
Sinners

Directed by Simon Trinder
Sinners was developed as a devised response to 'The 7 Deadly Sins'. The actors were grouped, took one sin each and used it as a stimulus through improvisation to develop a sequence of stories that have a flavour of their allocated theme, sometimes obviously, sometimes subtly. The sins acted a springboard to allow them the chance to work as writers and performers, hopefully deepening their understanding of scenic construction.
A delightful touch was their decision to set each scene in one apartment block around one event - a summer party held by the owner of the penthouse above.
The scenes are a mixture of light and dark, warm and bleak as the lives of multiple residents play out around the coming celebration.
Cast
Natalie Bottova as Katie
Rachel Sims as Jane
Lucy Carter as Jessie
Cal Newman as Adam
Marley Brown as Ollie
Ntombizodwa Ndlovu as Winnie
Amelia Lloyd as Poppy
Kitty Watson as Gem
Andrew Evans as Ben
Amelia Isaac Jones as Keira
Matt Leaman as Kyle
India Barnett as Imogen
Casey Ericksen as Olly
Molly Crighton as Sarah
Olivia Owen as Bella
Jake Cooke as Alex
Designer: Irene Jade