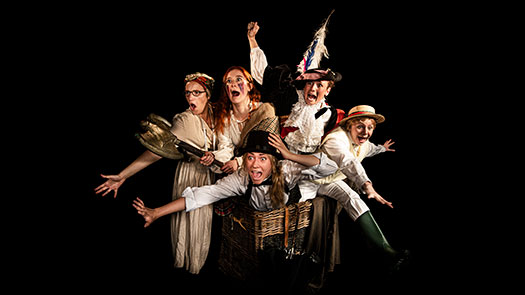 Thursday 7

–

Saturday 9 November 2019
We Happy Few
By Imogen Stubbs
Directed by Christopher Hunter
This comedy drama about an all-female theatre company touring Britain during the darkest days of World War Two is based on the true wartime history of the Osiris Players.
While the men are fighting Hitler and the bombs are falling on London, a 'girls only' theatre company of hopelessly mismatched individuals from different social backgrounds sets out to bring Shakespeare to a culture-starved Britain.
Together and separately they are forced to discover what life is like without men, and how they must survive when they have only each other.
An amateur production by arrangement with Nick Hern Books.
Cast
Hetty – Cat Hajduk
Flora – Lori Nicholson
Helen – Madeleine Sidi
Charlotte – Bella McKenty
Jocelyn – Hannah Flowers
Reggie – Kieron Michael
Gertrude – Beth Turton
Joseph – Garion Frith
Ivy – Talia Nyathi
Rosalind – Ida Regan
Maureen – Alexandra O'Neill