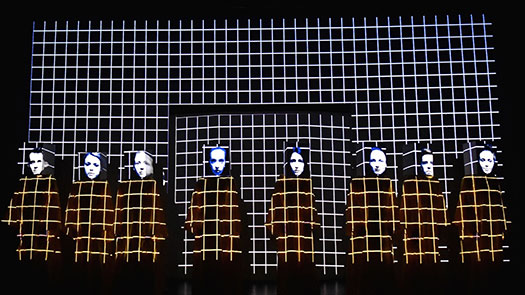 Drama and
Contemporary Performance
BA
(
Hons
)
Drama and Contemporary Performance
3 years
(
full-time
)
6 years
(
part-time
)
Make, perform and question current theatre-based practice and its relationship to the world.
Create and explore innovative contemporary theatre in this industry facing course that places your learning and practice in contact with Manchester's vibrant theatre and performance scene.
You'll connect with the acclaimed professional contexts and networks in the city, as well as those operating internationally, and with students studying other approaches to theatre and the arts. You'll also have the opportunity to work with leading practitioners and researchers, learning through workshops , ensemble practice, creative and study-based projects and seminars, and in relation to Manchester's arts venues and organisations.
Special Features
—

Unique focus on cutting edge practices in contemporary performance and dramatic theatre.

—

Close relationships with Contact Theatre, HOME, The Royal Exchange and international partners.

—

Combines artistic practice, academic enquiry and professional development.

—

Builds on many years of experience producing artists, performers, producers and teachers.
Course Content
After a first year exploring performing, theatre making and critical perspectives, you can opt to focus on text-based or broader compositional approaches to the making of new theatre. A series of performance projects both large and small also run throughout the degree, and it all culminates in the final year with major performance presentations, research projects and professional development training, aimed at setting you up for professional life.
Year 1
Theatre Making
'Theatre Making' is a studio-based unit that introduces and investigates a number of practices and strategies employed in the making of new theatre, using a combination of practical exercises and critical study.
Critical Perspectives 1
This unit will introduce you to key critical concepts and debates in drama, theatre and performance. You will learn about and debate these issues in the context of drama and contemporary performance. It will also introduce you to critical writing and thinking skills that are essential to both sustained academic research, university study, and to professional creative practice.
Performing
This practical unit will introduce you to a range of performance strategies, styles and techniques, with an emphasis on the performer's integral relationship to the creative process.
Project 1
This unit provides you with the opportunity to develop and apply performance practice within a staff-led, ensemble-based performance project.
Year 2
Project 2
This unit facilitates a range of staff-led public-facing performance projects, in which you will engage directly in the creative process, performance, production and critical reflection.
Critical Perspectives 2
This unit will contextualise contemporary theatre and performance within the historical, artistic and conceptual contexts of the 20th and 21st centuries. The unit will introduce you to the lineages of performance and theatre and its study through the twentieth century, and use that context to discuss and debate current issues in contemporary theatre and performance. Learning will take place through seminars, lectures, independent study, essays, and presentations. Assessed work will include student led presentations on historical cases and an essay on a relevant topic of each student's choosing based on their own research. This will serve to develop your skills in independent research, organisation, writing, presentation and critical thinking.
Artists and Companies
This unit provides you with the opportunity to study the contemporary performance making of leading artists and companies, exploring the work in both practice and theory.
Directing and Dramaturgy
This unit provides the opportunity for you to explore and develop your skills in directing and dramaturgy through practical engagement, in a workshop environment, with a range of dramatic texts.
Performance and Composition
This unit focuses on stimulating, informing and developing your own work in the composition of original, contemporary, performance pieces, mostly from the position of the performer/collaborator.
Performing and Acting
This unit provides you with key practical skills in acting and performing in relation to dramatic texts.
Year 3
Critical Perspectives 3
This final year unit functions as a forum for you to discuss critical ideas, further develop your formal research skills and formulate your thinking about contemporary theatre as a cultural practice. You will develop an independent research project and critically engage and evaluate your creative practice over the course of the year.
Professional Practice
This unit enables you to adopt an informed and pro-active approach to the key professional pathways available to you when they graduate, with a focus on professional skills, profiling, contexts, processes and outputs.
Project 3
This unit provides you with the opportunity to engage in two performance projects, one with the input of a professional artist and the other tutor supervised, with the second responding to the experience of the first.
Project 4
This unit facilitates a range of student-led, supervised performance projects, in which you will engage directly in the creative process, performance, production and critical reflection.

Graduates
This course will enable you to gain the skills and understanding to work professionally as a theatre maker, performer, director, producer, facilitator or teacher, or to move into other creative industries, as well as to engage in further academic study and research.
Making an Application
How to Apply
Apply through UCAS.
We will invite you for an Audition.
You will be notified of our decision through UCAS.
Entry Requirements
| | |
| --- | --- |
| UCAS Tariff Points/Grades Required | 112 at A2 or equivalent (which can include Foundation Diploma in Art & Design). A Level General Studies is not accepted. |
| Specific GCSE Requirements | GCSE English Language at grade C or grade 4. Equivalent qualifications (eg. Functional Skills) may be considered |
| Non Tariffed Qualifications | 112 UCAS Tariff Points from Access to HE Diploma in a relevant subject with at least 45 credits at Level 3 |
| International Baccalaureate | 26 Points |
International Students
A minimum IELTS score of 6.0 with no element below 5.5 is required.
Check our MMU International site for further information if you are applying with non-UK qualifications.
Tuition Fees
2019 Entry
See Money Matters for further information and advice.