Acting students perform at RSC
Master's degree tutors in Stratford Macbeth
ACTING students have appeared alongside their tutors in Royal Shakespeare Company performance of Macbeth at Stratford-upon-Avon.
Two MA in Acting students Mark McGurran, 27, and Ewan Downie, 32, appeared at Stratford with the multi-award winning
Teatr Piesn Kozla
in their avant-garde production of the Shakespeare tragedy in Polish and English.
Teatr Piesn Kozla
tutor MMU's Master's degree in Greece, Poland and the UK.
The group is hailed as the most exciting and innovative of the new avant-garde theatre movement.
Actor's craft
They continue the long tradition of Polish ensemble theatre work, and through their ongoing research in the actor's craft and its vocal and movement techniques, have created a unique peformance style.
The Royal Shakespeare Company comissioned the MMU Masters team and artistic director Grzegorz Bral to produce Macbeth, and the result is a production "quite unlike anything you have seen before," finding fertile ground in Macbeth's theme of ambition, greed, power, fear and failure.
The performance (Feb 21-24) was part of RSC's Complete Works festival with Shakespeare companies from as far afield as Iraq, Japan, America, Brazil, Russia and South Africa.
For more about MMU courses in acting, go to
www.theatre.mmu.ac.uk

27 February 2007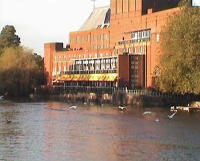 Royal Shakespeare Theatre, Stratford-on-Avon (Photo: Gerd Thiele, CC-by-sa/2.0 )