3 March 2008
Are you in a Top 10 profession?
MMU's Changing Professions report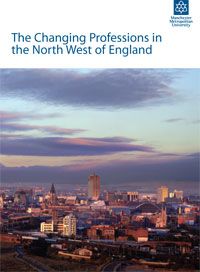 A MMU report into the North West economy has named the financial and professional services as the region's biggest employment growth sector.
The report, called The Changing Professions in the North West of England, shows that last year 428,800 people were employed in this sector in the region – up from 315,200 in 1997.
This jump accounts for 23% of overall growth in the region's top 10 employment growth sectors, ahead of education and life sciences ranked as the second and third fastest growing.
And the financial and professional services' dominance of the North West's employment scene is set to increase with almost a third of people predicted to be working in related professions by 2020.
MMU sponsors growth
As well as highlighting the shift away from traditional manufacturing industries, the report demonstrates how MMU is supporting growth in the region's emerging sectors through postgraduate and continuing professional development (CPD) courses, business partnerships, research and consultancy.
In his foreword to the report, Vice-Chancellor Professor John Brooks said: "Preparing for the new post-industrial knowledge economy is a challenge the North West is facing and which Manchester is leading.
"Manchester's Knowledge Capital ambition is being realised by the successful growth of the professional and financial services sector and the exciting opportunities offered by the relocation of the BBC to Media City.
"Knowledge is clearly central to the future economic prosperity of our region and the role of universities in the creation and communication of knowledge is vital.
"MMU strongly supports the new agenda for universities and reflects this in our ambition to become the 'Leading University for World Class Professionals'."
The Top 10
The top 10 employment growth sectors in the North West of England are – 1. Financial and Professional Services; 2. Education; 3. Life Sciences; 4. Retail; 5. Construction; 6. Hospitality and Tourism; 7. ICT Digital and Communications; 8. Creative/Digital/New Media; 9. Public Sector; 10. Sport.
The full report, which includes Case Studies of how MMU is influencing each sector, can be accessed by clicking on Changing Professions in the North West at www.mmu.ac.uk/news/publications.